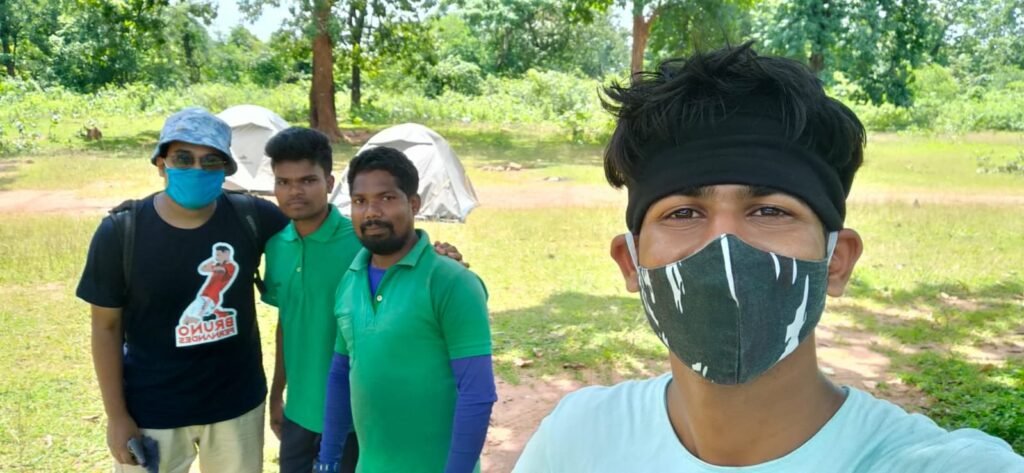 Blog by Aritra Bandyopadhyay

When We Think About Visiting Chattisgarh, Even the Travel Enthusiast Bengalis Like Us Inadvertently Become Slightly Skeptical About the Place. At First Thought, It Is Usually Not One of the Most Ideal Places for a Vacation. I Sincerely Hope That This Line of Thinking Will Be Changing Very Soon and if I Can, in Any Way, Help This Tide to Turn, I Will Certainly Consider Myself Fortunate. This Is Both the Motivation and the Prelude of Writing About My Travel Experiences in Bastar With an Amazing Group of People Working Tirelessly for the Betterment of the Bastar, Vis-a-vis Chattisgarh Tourism, Also Known as the Unexplored Bastar (Ub) Team.


Esthetically Elevate My Trip to Chattisgarh. My Friend, Soulmate, and Guide Sanjukta Usually Always Helps Me in This Regard and I Must Not Steal the Credits From Her Here, as Much as I Want To. It Was Actually She, Who First Found Out About the Existence of Unexplored Bastar (Ub) and Send Me Two of Their Itineraries to Choose Between. Earlier, My Plan Was Just to Reach Jagdalpur, Look for a Hotel, and Take It Forward From There. However, When I Looked at the Itineraries Presented By Ub, I Was Both Quite Surprised and Happy. And a Hard Time Choosing Between Them and Finally, After a Lot of Discussions, I Chose the Dholkal Itinerary That Would Perfectly Suit My Knack for Trekking.

On the morning of the D-day, I Arrived at Jagdalpur (the Hub of Bastar) at 6 Am by Bus From Raipur, The Capital City of Chattisgarh. The Day Before, I Had Received Notifications From the Web Team About Necessary Items to Pack for the Trip and Do's and Don'ts While Camping/trekking. I Also Got A Call From Harsh, One of the Core Ub Team Members, My Host/guide for The Next Three Days. Another Member of the Ub Team, Harish , Received Me From the Bus Terminal and Then Escorted Me to a Hostel to Freshen Up and Get Ready for My Trip. At Around 8 Am That Morning, I First Met Harsh, an Energetic Young Guy, and Started Our Journey Together.

On the morning of the D-day, I arrived at Jagdalpur (the hub of Bastar) at 6 AM by bus from Raipur, the capital city of Chattisgarh. The day before, I had received notifications from the UB team about necessary items to pack for the trip and do's and don'ts while camping/trekking. I also got a call from Harsh, one of the core UB team members, my host/guide for the next three days. Another member of the UB team, Harish, received me from the bus terminal and then escorted me to a hostel to freshen up and get ready for my trip. At around 8 AM that morning, I first met Harsh, an energetic young guy, and started our journey together.

We Started Off With a South Indian Breakfast a Combo of Idli With a Superb Chutney in a Local Restaurant Within Jagdalpur City. Harsh Brought a Scooty, Really Unique Because of Its Oil Indicator Which Invariably Shows 'full' All the Time. A Scooty Ride Took Us to the Madarkanta Cave, Our First Destination From the Itinerary. After Reaching the End of the Motorable Road, Sannu Benjamin, a Young Tribal Boy Joined Us as Our Guide and We Started Our Walk as if Dissecting Through the Green Carpet. After Walking for About 6 to 7 Minutes We Reached a Canal, Crossing Which Is Usually Pretty Easy. But We Are Not the Usual Ones and That Was Not a Usual Day as Bastar Had a Huge Amount of Rainfall the Previous Day. So the Canal Was Brimming With Water and We Had to Find a Different Route to Cross It. The Water Was Still Almost Knee High and Flowing With Great Pace. We Had to Be Very Careful Not to Slip Into the Canal While Crossing It. After Crossing the Canal We Had to Navigate Our Way Through the Woods for a While (as We Chose a Different Trajectory Altogether).

It Was Really Muddy and by the Time We Reached the Entrance of the Cave, My Shoes, Socks, and Capri Trousers Got Extremely Filthy. We Explored the Whole Cave, and Could Easily Guess That Because of the Rainfall Last Night, It Was a Bit Harder Than Any Other Day. It Was Mostly Slippery, Making It Difficult For Us to Climb. While Returning Back to the Entrance, for a Moment, I Seriously Thought That I Was Not Going to Make It! Nevertheless, I Really Liked the Fact That It Is Still Completely Raw, With No Renovations Done to Make It Easy for the Visitors, as Is Usually Done in Other Popular Caves. Harsh Was Explaining to Me the Different Facets of the Cave, Sannu Was Leading the Way, and Finally After Half an Hour, We Got Out Completely Drenched in Sweat.

Destination, Tirathgarh Waterfalls. I Wheezed Through the Entire Route. It Was a Beautiful Journey, Especially After We Entered Into the Protected Forest Area Covering the Tirathgarh Waterfalls. On the Way, We Also Visited a Local Tribal Home to Have a Closer View of the Life of the Locals. It Was Really Neat and Clean, With a Parrot Protecting the Doorway. After Reaching Tirathgarh, We Parked the Vehicle and Straightway Got Down to the First Layer of the Falls. I Thanked the Last Night's Rainfall One More Time! Tirathgarh Was Voluptuous, Beautiful, Flowing With Grace, and Glowing Under the Bastar Sun. The Flow Was So Forceful That People Were Avoiding Going Too Near It. We Really Enjoyed Our Time There and Even Got Down One Layer More to Enjoy a Different View of Tirathgarh.

After Returning From Tirathgarh, We Directly Had Lunch at a Dhaba Nearby and Then Started Our Journey Towards Danteshwari Temple. Harsh Noticed a Roadside Memory Pillar on the Way, a Unique Signature of the Bastar Tribals and We Took Some Time to Observe It More Minutely. After Reaching Danteshwari Temple We Met Some Tribal Women Working as Guides and They (Along With Harsh) Told Us Enticing Stories About the Origin of the Temple and the Famous Dussera Festival Happening Every Year in and Around the Temple.

After Visiting Danteshwari Temple We Continued Our Journey Towards Dholkal Tent Site, Where We Planned to Stay Overnight. Midway in the Journey, I Had the Chance to Witness an Interesting Cockfight. Since We Had Phones With Camera, the Local People Let Us Watch the Game From a Close Range and Record Video/photos.

Finally, After Reaching Dholkal Tent Site, We Met the Amicable Young Man Rajkumar Who Was to Stay the Night With Us and Also Be Our Guide for the Next Morning's Trek. Three of Us Put Up the Tents in a Little Clearing of the Wood, Just in front of the Starting Point of the Trekking Trail. We Had a Really Great Dinner That Night (Reminded Me of the Dinners I Had While Trekking in Nepal) and Went to Sleep Really Early.

The next morning, the Three of Us Completed the Dholkal Trek Before 10 Am. The View From the Top Was Astounding, Especially With the Ganesh Statue Atop the Hill. One More Surprise Was Waiting for Me After Coming Down – the Famous Authentic Tribal Red Ant Chutney Called Chapada. I Even Tried The Raw Red-ants and It Didn't Taste Bad. Chutney Was However Way Too Tasty! During Our Lunch, I Asked for It Again and Still Craved for More. After Our Lunch, We Bid Adieu to the Local People Who Provided Us With So Much Comfort Within the Woods and Continued With Our Extended Plan.

It Got Extended Because I Had Requested Harsh to Elongate My Itinerary for an Extra Day So That I Could Explore More of Raw Bastar! We Thus Continued With Our Journey Towards Barasur Dotted With Beautiful Temples Within It. After Visiting All the Main Temples of Barasur We Progressed Towards Tamdaghoomar, Where We Planned to Stay the Night in a local Homestay. This Journey From Baras to Tamdaghoomar Was Stunning as We Crossed the Mountain Ghaat in Between. At the Homestay, We Met With the Warm Family of Sudar Bhaiya, the Owner, Along With His Very Young and Jolly Child Nidhi. I Got the Proof of How Good a Cook He Is While Having Homemade Snacks and Dinner. I Even Tried Some Mahua, a Local Drink. Finally, We Were Able to Charge Our Mobile Phones And Other Necessary Things. I Really Enjoyed the Look and Feel of This Homestay. The Only Thing One Has to Keep in Mind Is the Excess of Insects at Night and the Necessity of a Mosquito Net.

After Spending the Night at Tamdaghoomar Homestay, We Started for the Legendary Chitrakote Waterfalls the Next Morning. I Think There Is Nothing More Left to Talk About the Beauty of This Waterfalls. The Only Thing I Would Like to Add Is That There Is Nothing Exaggerated in the Google Photos When One Generally Searches for Chitrakote Waterfalls. It Is Exactly That Much Beautiful if No More. One Can Just Look at It for Eternity.

But Unfortunately, We Had More Places on Our Checklist. So We Went to Our Next Destination, Bijakasa Waterfalls, a Totally Different Experience for Me! This Is an Ideal Waterfalls for Bathing and We Did Exactly That. The Way Towards the Bijakasa Itself Is Really Adventurous as We Had to Walk Through a Field With Knee Deep Water. After Enjoying Bijakhasa, We Went to Tirtha, the Other Side of Chitrakote From Where We Got the Panoramic View Of Chitrakote. Before Returning to Jagdalpur, Our Final Destination Was Narayanpal Temple Which Reminded Me of Bishnupur in West Bengal.

Finally, We Reached Jagdalpur After 4 Pm That Day and Had Lunch in a Local Restaurant. Harsh Also Helped Me in Shopping for Some Local Silks and Local Bamboo Jewellery. Since I Had Booked an Overnight Bus Trip to Raipur, Harsh and Ub Had Even Arranged the Same Hostel (Where I Stayed for A Few Hours on My First Day of This Trip) for Me to Spend a Few Hours Before My Journey. Harsh Even Went a Step Further and Came Back Again at Night Dropping Me Off at the Jagdalpur Bus Terminal.

These Were All Outside My Itinerary and That Is What Makes Us Different From Other Travel Agencies. It Is Evident From My Experiences With Ub That for Them, Business and Profit Making Are Secondary Goals. They Mainly Focus on the Comfort of the People Availing Their Sustainable and Eco-Friendly Service, Making Sure That People Enjoy to the Fullest and Crave for Coming Back to Bastar Again. Also All the Young Tribal Boys and Girls I Met on the Visiting Sites, Looked Really Pumped Up by This Opportunity Offered to Them by Ub. Ub Has Already Made Some Great Strides in These Two Fronts, but I Wish Them Even More Success in the Near Future.