Blog By Dr. Sonika Bodhi

Holidays make me happy when it is full of adventure especially exploring the unexplored. This time it was Bastar, the unparalleled experiences, rare moments, and genuine human connections. This trip was a real soul-elevating trip where every mile threw a surprise and the intrigued soul was on a roller coaster ride.
The itinerary we followed was: Bhilai-Tirathgarh Waterfall- Chitradhara Waterfall – Chitrakoot waterfall and trekking to Bijakasa waterfall.
Tirathgarh Waterfall: Located in Kanger Valley National Park, the Tirathgarh waterfall is among the most beautiful waterfalls in Chhattisgarh. The waterfall splits into multiple falls, which stream on rocks creating a visually pleasing panorama.
Chitradhara Waterfall: On the way to Chitrakoot Falls, a small river flows through the valley of a small hill. Chitradhara, Tamada Ghumar, and Mehendi Ghumar make the Chitrakoot waterfall tour even more attractive and enjoyable. But due to a shortage of time, we couldn't visit Tamada Ghumar and Mehendi Ghumar Waterfalls.
Chitrakoot Waterfall: After Chitradhara Waterfall we headed towards Chitrakoot Adventure Camp. A Campsite has been developed by @Unexplored Bastar near Waterfall. We reached at 8 PM, we started hearing Chitrakoot but could not see, after reaching the campsite we could see a glimpse through halogen lights.

@Unexplored Bastar is a team of lovely people doing what they love and they make sure you will love Bastar. We meet tour operators Mr. Adarsh Verma and Mr. Nandgopal who have facilitated the whole tour with help of the local Tribals Self Help Group. The comfortable tents with mattresses and blankets pitched at the edge of the site, we heard the beautiful sound of the waterfall throughout the night. The people taking care of the camp are so warm and welcoming that you immediately feel at home. The stay also includes typical Bastar food served in the Dona (traditional leaf bowls). The campfire was arranged for us. They served the most famous dish "Chaprah chutney" or red ant chutney; the red ants along with the eggs are collected from the nests and mixed with tomato and spices, which we found deliciously amazing along with the smoky flavored chicken. The night in the tent was warm.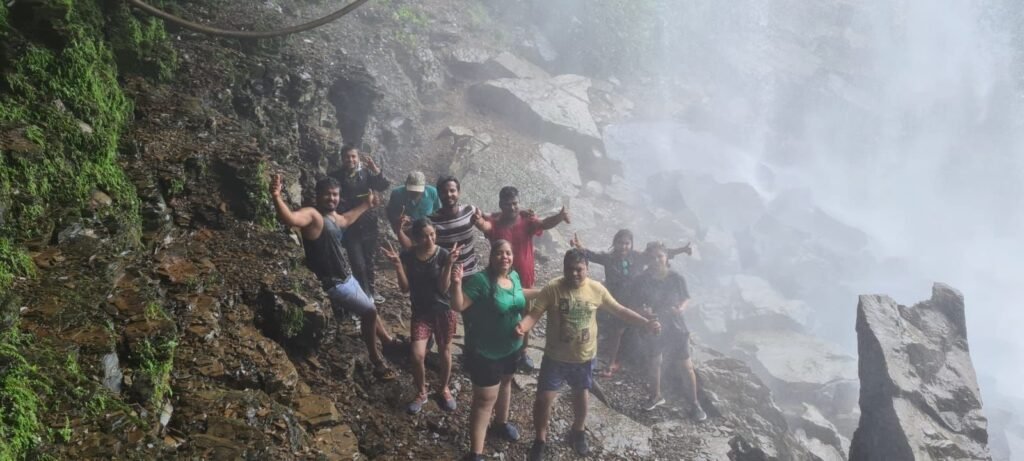 The next day in the morning we woke up with beautiful sunrise in Chitrakoot, and went for a Nature Trail near the falls and enjoyed the beautiful scenic Chitrakoot.
Bijakasa Waterfall: After breakfast, we meet Mr. Vishnu Kashyap, along with Mr. Adarsh Verma and Mr. Nandgopal we started to trek to Bijakasa Waterfall. Vishnu started telling stories of Bastar Dusherra and how it is celebrated there and other stories, which made the difficult trek very interesting. While on the trek, creepers, climbers, and trees amuse us. Vishnu was familiar with a variety of plants available in forests and he showed some of them. He showed a tree whose leaf was so sticky that we can make bubbles through it.
We were exhausted by the time we reach the waterfall but as soon as we reached there all the tiredness was gone and we enjoyed ourselves in the waterfall. Returning back was also tough we have faced stiff climbing and going through small caves full of bats. But the trek experience was amazing.
It was totally a memorable trip…which gave me a lot of reasons to visit again. I would like to thank Apeksha Adwani, as she planned the whole trip. I would also thank to Mr. Adarsh Verma, Mr. Nandgopal, Mr. Vishnu Kashyap, and all the Tribal Villagers of the self-help group for their hospitality and for making the trip feel like home. Lastly thanks to @Unexplored Bastar.
If you are looking for an amazing offbeat experience, Bastar is the place to be. With its unspoiled natural beauty, Bastar offers unparalleled experiences that are sure to leave you spellbound. From awe-inspiring waterfalls to stunning trekking trails, Bastar has something to offer to all sojourners. Bastar is not just all about its natural bounties but the tribal lifestyle and the culture of Bastar that makes it worth a visit.
Follow our Social Media on Facebook, Instagram, and Twitter to get regular updates..